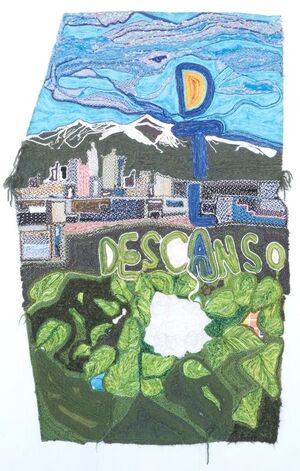 Based in Los Angeles, I cull material from my surroundings
and visits to the desert, mountains and sea.
Having experienced diverse cultural backgrounds
from Mennonite society to the urban milieus of Savannah, Philadelphia, New York, San Juan and now Los Angeles,
my art traverses compacts with universal fragmentation
of symbols, materials and forms.
My weavings
cum sculptural structures stand alone on walls, floors and
the body challenging Modernist notions of the art object.
Inherently holding potential energy to be used, while
maintaining a malleable form, my sculptures are meant to be touched and held. I approach painting, collage and the 2-D surface in an effort to communicate through formal and admittedly Modernist picture plane strategies of visual illusion through depth and composition. However, I strive to initiate public and intimate conversations that address contemporary aesthetic and political issues. Ultimately, my goal is to activate multiple senses thereby lengthening the duration of the viewer's experience with my art.

---